I think we can all agree that there is one thing all entrepreneurs want to figure out. It is how to increase sales easily and effectively.
The success of a business is measured in numbers. What it offers must pay off and show a result according to the effort, time, and money you have invested.
However, it is not always easy.
Do you want to find out how to do it? Of course, you do! Listen to the podcast below or keep reading to learn how!
But, before that, you must answer another question:
Do you know your competition? 
Quickly think about it.  
Do you know how many people are offering the same as you?
How many of your competitors are doing the same thing that you do?
Usually, we feel very confident about our products. We do not give that much thought because we faithfully believe in our own perception. Besides, we also think that we are incredible and better than the competition.
Contrary to what you may consider, arrogance is not entirely wrong. But does the rest of the world think the same way you do?
To Increase Sales Know Your Value Within the Market-
Forgetting about competition is one of the most common mistakes we usually make when it comes to increasing sales. The feeling of superiority can lead us directly to failure, especially if believing that we are better escapes from reality.
You may also believe that you are unique, but you must know what the audience really sees when it is in front of you.
If you analyze your competition, you can see if they are offering a product or service similar to yours. At first glance, you may feel this is unimportant.
You likely think that what they provide still doesn't look like what you have for your audience. But there is one fact that you should pay close attention to.
It is that there may be people who think both yours and your competitors' offer are exactly the same. (Mic Drop)
Now, it is wise to dig a little deeper: 
How about the price?
Does it still look like a very similar offer to yours?
Is your competition's product or service significantly less or more expensive than what you are showing to the market?
So, we have two unrefuted facts within all this: 
#1 Many people offer the same as you. 
#2 There are also products and services with prices identical to yours. 
Therefore, we must understand that the increasing of sales is not based directly on your service or product. It is on how the audience perceives your brand.
Here, arrogance comes into play once again. You think you're better, but do the users you want to reach even consider that possibility?
Demand and supply's analysis as a starting point to increase sales-
We already know that you are not the first person to do what you are doing. We also discovered that your prices are quite similar to others. And, likely, your audience does not have the same image you have about yourself, your business or your brand.
Then, it is here where what makes you unique comes into play. If you are marketing your goods in a market where there are many people with the same or very similar ideas to yours, then your most favorable option is to take advantage of what makes you different.
Put yourself in your audience's shoes. Think about why they should choose you among other people who promise exactly the same thing.
Do you have the answer to their problem?
This is the key to increasing sales. Once you know your market and understand what they want, the next step is to offer them something they cannot resist.
An Irresistible Offer that Will Increase Sales
At this point, you must think again as if you were your buyer.
Consider these questions:
What makes you use your credit card immediately when you see a product?
What makes you stop thinking about the destination of the money you carry in your wallet and use it to buy something without even analyzing whether it is right for you?
People buy what they want to buy, not what they need.
Let me repeat that again…
People buy what they want to buy, not what they need.
So, what should you do to make what you offer what the market wants to purchase? The answer is its value.
Again, it is essential to clarify that value has no relation to price, at least not directly. When we talk about giving value to your offer, we mean making it so irresistible that they literally run to get their credit card to buy.
We must understand that an irresistible offer has a lot of value to your ideal audience.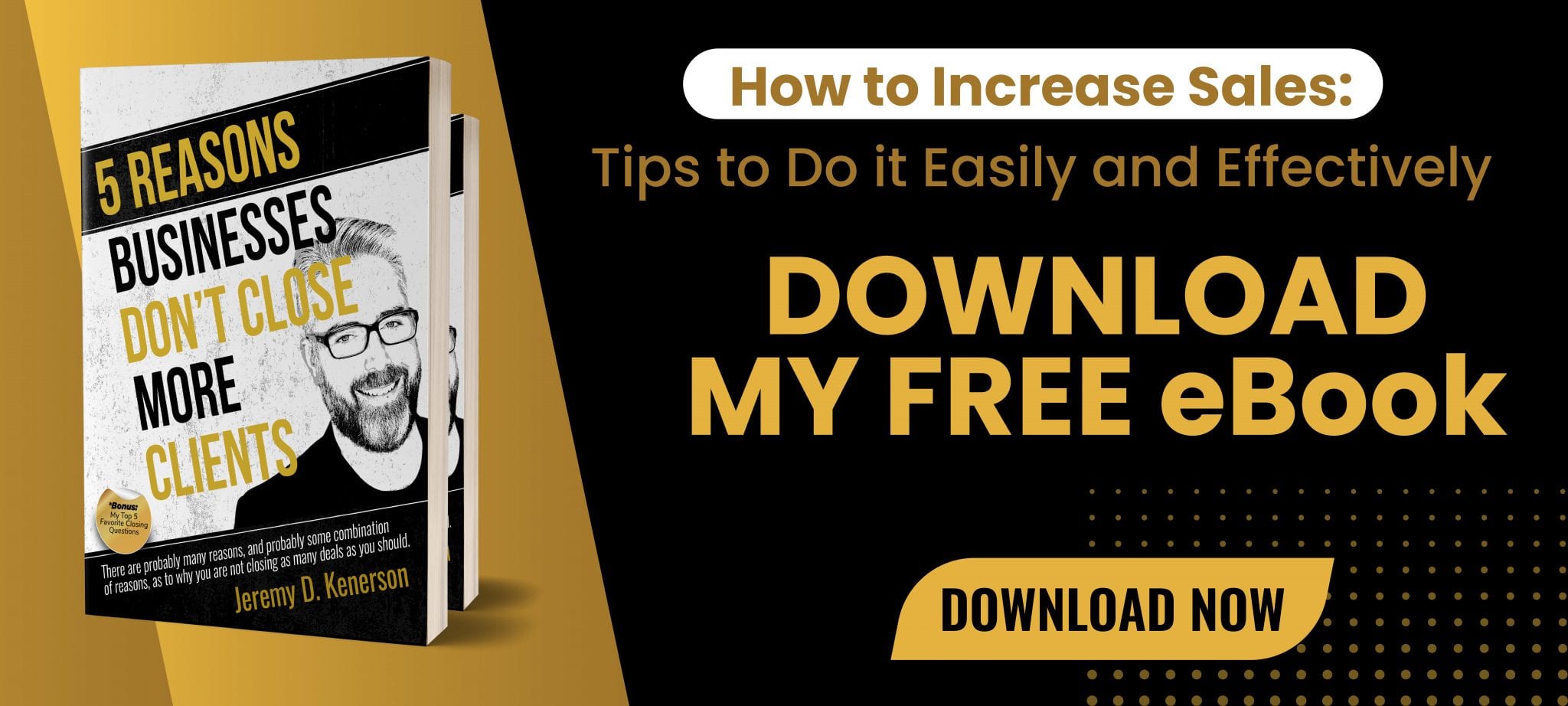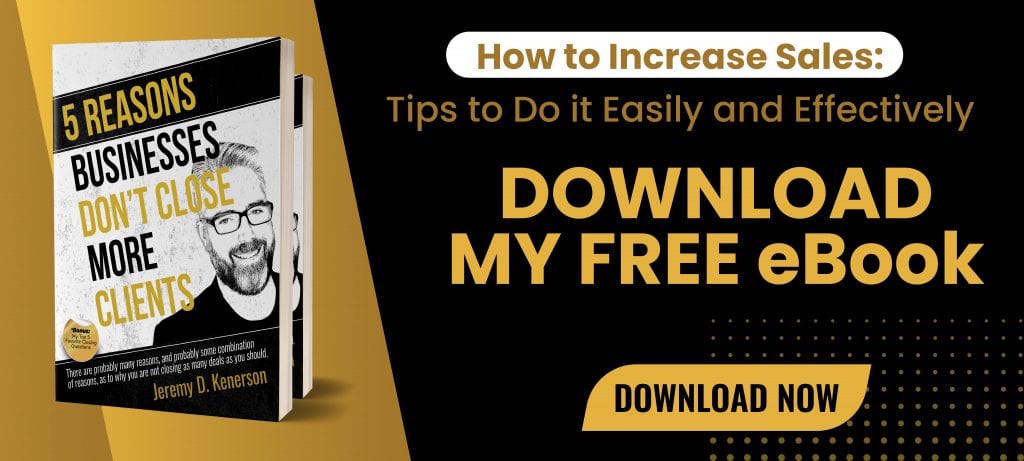 How to Make Your Offer Irresistible? 
Define your offer:
You must know what you are selling. But you also must know where, how, and why you do it. Your product or service must meet the needs of buyers in your niche. Therefore, its characteristics must focus on their needs as well. And they need to know they are getting a great deal so make sure the price seems irresistible compared to other like products on the market.
Add value through bonuses and extra elements:
One way to stand out in a market with similar options is to add something distinctive to your offer. Think of something related to your original product or service that you can add to the value that provides another possible solution to your client.
FOMO (fear of missing out):
You want your audience to be afraid of missing out if they don't get it right now. How can you do it? Well, through what we call limited offers. Define a quantity for your product or service. Make your audience think that it will sell out quickly. This will make them feel that it is their only opportunity to buy it. For example, they won't be able to get out their credit card fast enough.
Know where you are selling it:
We have many tools available to market our product: emails, social networks, Pinterest, and blogs. The primary and most efficient for us will always be our website. The platforms mentioned above should serve as a way or channel to direct our customers to our website so that they can connect with our brand or business. This will provide more possibilities for successfully closing a sale.
Let's Analyze an Example of an Irresistible Offer 
Suppose that your market is fitness or sports, so you decide to offer a training program. Excellent!
There are thousands of training programs available in the world. You did a market study and found that the approximate price is $100, so you decided to stay within that range.
Your training program consists of a series of videos and tips. Well, hundreds of people may be selling exactly the same as you. That is why you must add extra incentives to make your offer more attractive.
What if you also add a powerful recipe book for good physical conditioning? Your offer becomes videos + recipes, so it begins to increase in value.
Now, make it even better. What if you also add a one on one session and the possibility of joining an online community that helps members stay accountable to achieving their goals?
Now your offer would include videos, recipes, personalized coaching, and participation within a community. In this way, your $100 program would be a massive amount of services and products at a great value.
Tips to Decide What Bonus Products or Services to Offer-
Another thing to keep in mind is that the above chosen randomly. You can't offer a 24-hour plumbing course to someone who wants to exercise, right?
This means that everything you add to your offer must compliment your offer. To decide what elements to add to your offer to increase sales, follow these tips.
Brainstorm:
Write the different options that you can offer on paper or your computer and analyze which ones can add more value to your original offer. Keep in mind only those that relate to your main product or service.
Know the needs of your target audience:

If your target audience is people who work long hours a day, it is not convenient to sell them an intensive exercise plan that involves spending a lot of time. You should know what your potential customers need in order to offer them something that is irresistible to them.
Turn your offer into a solution:
As I have said before, your offer should generate interest, and one of the best ways to do it is by turning it into solutions. You can make it with your products or services if you have already identified your customers' needs. An example would be someone who wants to exercise but can't find motivation, so you offer him a series of secrets to boost their desire to exercise.
How Will You Increase Your Sales? 
Do you see that it is not as difficult as you thought? With this information, you can make the most of your resources and increase sales to levels you have never imagined! What will your offer be to your audience? Share in the comments below.